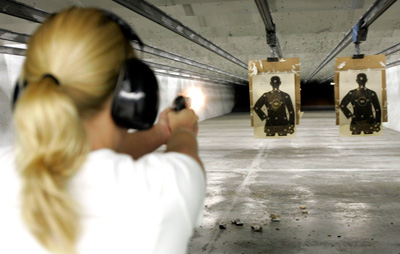 Our gun classes in Tucker teach you how firearms can be used safely and efficiently. We know that gun safety is of the upmost importance and cover it in great detail. Our qualified instructors all have the necessary experience and training to equip students with the knowledge they need about how to use their firearms.
These gun classes in Tucker go through numerous different topics in detail. We know that there are a number of ways to do everything. Our instructors will teach you the most efficient ways to load and unload your firearms. They also cover how to safely store and efficiently shoot your gun. Our instructors tell you where and how you can store your firearm so that you can easily access it but others cannot.
Myths and misconceptions surround legal and responsible use of firearms. These gun classes in Tucker teach the state laws concerning using and owning a firearm. Our instructors cover teaching when deadly force is legal and other judicious issues that may arise when using a firearm for defense.
We will teach you how your firearms can be handled safely in numerous situations. We cover the motion and effort you need to operate your firearm sufficiently and smoothly and ways to prevent future accidents. Our instructors cover how to use your firearm. They cover all the operations your firearm has. They also cover basic draw and fire techniques.
Gun owners have numerous options when it comes to equipment they can purchase for their firearms. Our instructors will cover the correct equipment your firearm requires. They cover efficient and quick ways to reload your firearm. They also teach you how to safely and quickly clear a jam from your firearm so that you do not cause an accident and harm yourself or someone else and teach you to avoid a potentially dangerous situation.
The recently passed gun laws in Georgia does not require you to take a gun safety course. Despite this fact gun safety courses are still a good idea. Obtaining a permit does not guarantee that you have the knowledge you need to safely and efficiently handle a firearm. When you take our courses, our qualified instructors will provide you with this essential knowledge. We want to minimize accidents, and the knowledge you will gain from this course may mean the difference in life and death for you or someone you love.