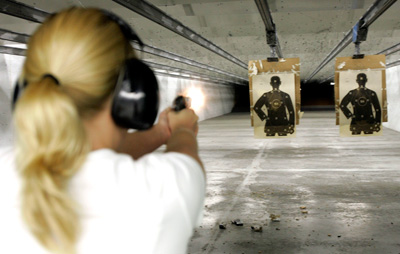 Our instructors that teach this CCW class in Brookhaven are appropriately qualified and efficiently skilled in all areas needed to properly train our students how to be safe and responsible gun owners. Sometimes in life things don't always go according to plan. There is a need to be able to protect yourself from threats and our goal is to make sure that our students leave here with the knowledge of how to protect themselves safely and efficiently. We understand that the dynamics surrounding carrying a concealed weapon for protection are diverse and our goal is to educate our students so that they are prepared and ready if they ever come across an unfortunate circumstance.
The laws in Georgia do not require citizens to complete a gun safety class before obtaining a permit. However, taking a safety course can greatly increase the efficiency and safety of using a concealed weapon for protection. There are limits to the concealed carry laws in Georgia, however, and knowing the limits to the law are just as important as knowing your protections. Our instructors cover the Georgia laws as pertaining to concealed carry and self – defense to provide students with an understanding of when and when not the use of deadly force is legal and necessary in the eyes of the law. We also understand that human beings do not perform well under high stress. We do our best to educate our students on how to appropriately respond to the authorities in the aftermath of a tragedy.
Life doesn't always give us the advantage. You may come across a situation in which you have to protect yourself in unideal situations. This CCW class in Brookhaven will cover methods for shooting in positons of disadvantage. Sometimes you have no control over the conditions in which you have to defend yourself, but our instructors aim to prepare students for any circumstance. We also cover various methods for shooting while moving. Our instructors will cover basic safety guidelines for handling a firearm as well as basic self-defense techniques. They cover a range of malfunction clearing techniques to help increase efficiency and minimize accidents.
The instructors of this CCW class in Brookhaven aim to provide a safe and fun environment to teach you how to properly and efficiently defend yourself. They focus on effective methods of using cover and concealment. They also cover the various different types of equipment you might need and teach you how to identify what is right for you and your firearm. Our qualified instructors do everything within their power to make sure students leave here with a sense of safety and security and confidence in the knowledge that they are responsibly armed.